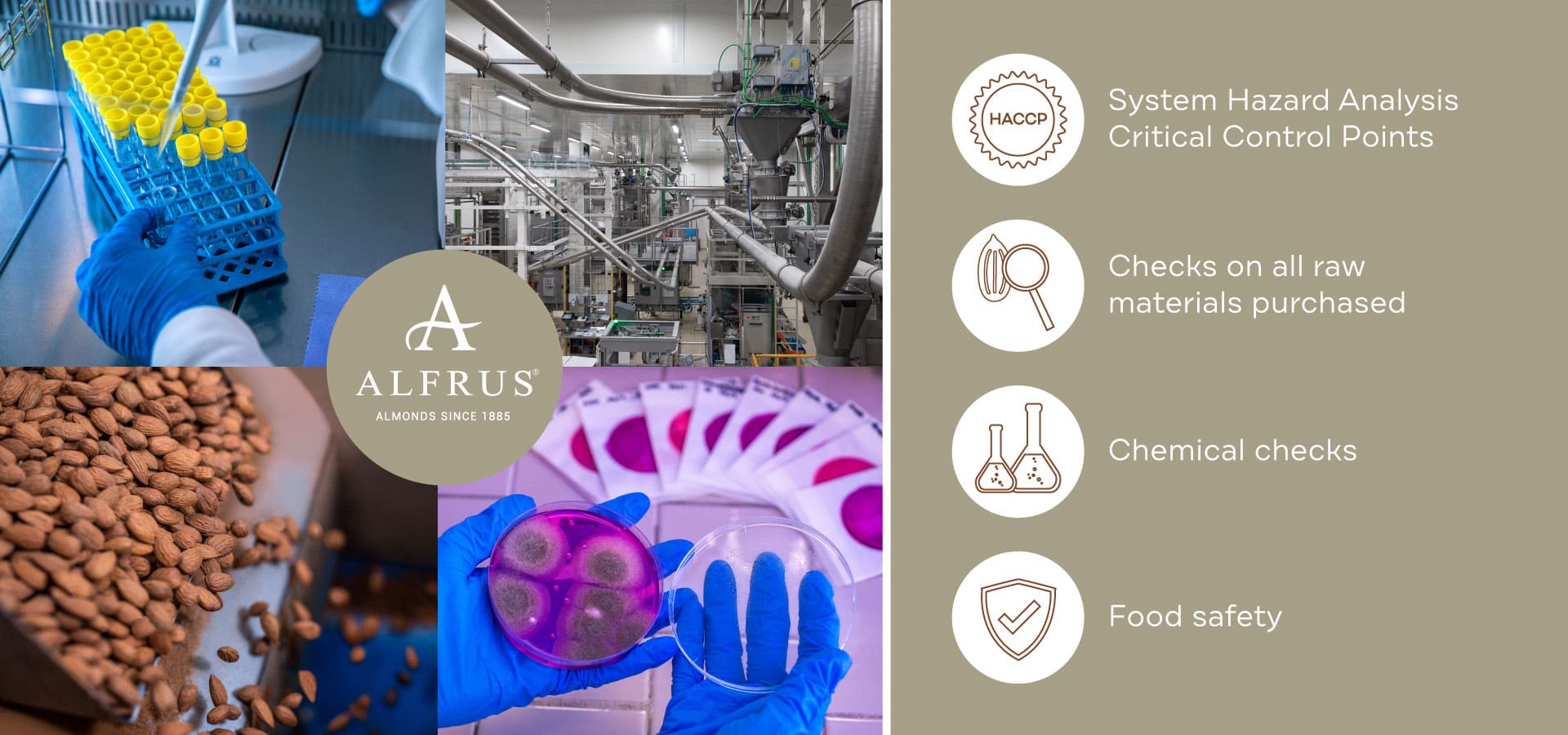 Safe almonds thanks to our three-pillar Quality System
The secret of our safe almonds lays in our three-pillar Quality System. Here at Alfrus, food safety follows a precise plan of activities and combined strategies. We want to guarantee deep, reliable, assured, and certified quality systems to satisfy almonds' world market demand.
In a global context that is increasingly sensitive to good and healthy food, our company is committed to quality, food-safety and sustainability. But, for us food-safety comes first.
In order to bring to the market only healthy and safe almonds, we have implemented a precise Quality System that is based on three fundamental pillars:
• Careful selection of the best raw material.
• High-tech systems that identify any type of foreign matter
• Scrupulous quality controls in our internal laboratories
The entire almond processing cycle is therefore safe and controlled from the arrival of the raw material in our plants up to the final packaging.
In order to follow the international rules for a correct quality control, we apply the HACCP (Hazard Analysis Critical Control Points) system. This allows us to prevent all possible almonds' contamination, analyse the risks and control any critical processing stage.
However, as we explained so far, the selection of safe almonds starts upstream: all our products come from crops that respect the ecosystem, as we want to respond to a widespread and growing sensitivity to environmental issues.
For us, food security arises from fields that are cultivated without the massive and indiscriminate use of pesticides and other chemical contaminants. In fact, we carefully select our suppliers and struggle to raise our partners' awareness against the use of pesticides.
The best raw material, purchased from selected suppliers, reach our high-tech plants and undergo processing stages ruled by Smart Factory 4.0 technologies. We use our cutting-edge technology to produce only safe almonds. Thanks to state-of-the-art equipment, we are able to recognize and isolate foreign matters, as well as to detect and eliminate specific contaminants such as aflatoxins, identifying them on single nut. Nothing escapes our cutting-edge electronic eye-detectors.
Our commitment to produce only safe almonds is carried out in our internal laboratories, where a team of professionals test the incoming raw materials and the final packed products, ready to be shipped abroad.
Thanks to our Quality System, we always guarantee our customers safe almonds that are good and healthy. In this way we protect the food and confectionery industries that choose us, and above all, we protect our consumers all over the world.