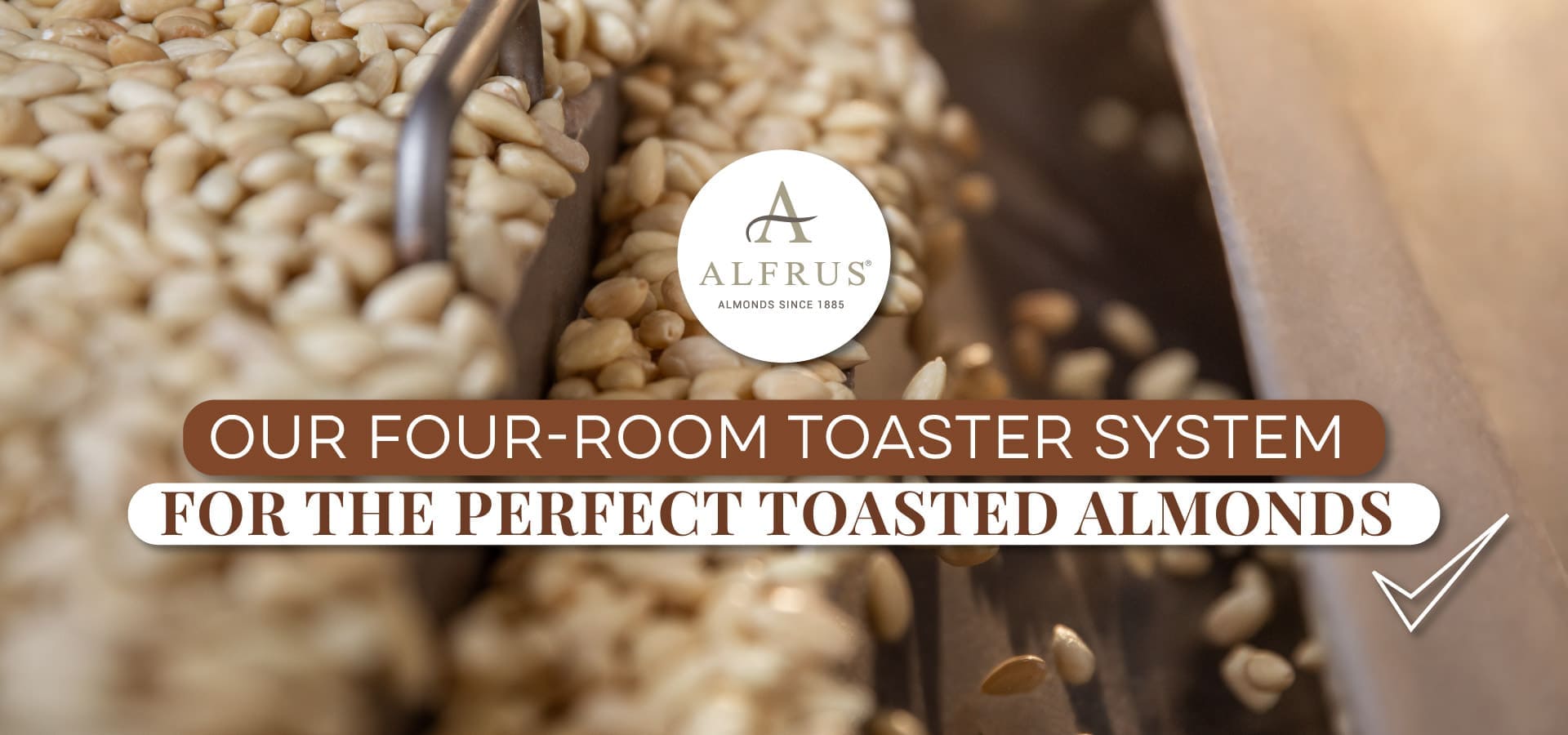 Roasted almonds by Alfrus are custom-made, good and safe
We at Alfrus produce standard or custom-made roasted almonds. This is one of the strengths of our production system, which are provided with state-of-the-art technologies, compliant with Smart Factory 4.0 standards.
The almond market is constantly evolving, and we have recorded a significant increase in demand for roasted products. We have therefore met this need of the national and international market by setting up an entire roasting department in our new plant in Udine, in Italy. In this way, we re able to process roasted, natural, shelled custom-made almonds.
How do we manage this?
We have implemented cutting-edge technologies such as our brand new roasting oven. It is a "forced air" oven that allows us to roast almonds either in a homogeneous, or custom-made way.
ROASTED ALMONDS WITH FOUR CHAMBER OVEN
Our roasting system is equipped with four chambers dedicated to four different processing stages:
1. Drying
2. Roasting
3. Cooling
4. Stabilization
In other words, almonds are first dried with a thermal preparation process, then they are roasted at set temperatures that vary according to the desired final colour gradation. Finally, the almonds undergo cooling processes until they reach ambient temperature.
The last steps are crucial to avoid condensation inside packaging stocks, as this phenomenon can compromise some almonds' organoleptic components.
The roasted almonds, therefore, undergo a careful selection process and are finally packed through soft vacuum systems. Even in this last process we use the most modern technologies that allow us to keep the quality of our roasted almonds unchanged over time, up to 9/12 months.
CUSTOM-MADE QUALITY PRODUCTS
Thanks to this state-of-the-art roasting system, we are able to roast homogeneous and custom-made products with precise chromatic gradation required by our customers.
All our almond processing stages are therefore customized, focusing on quality and food-safety, with machinery that accurately respond to the needs of the Italian and worldwide food and confectionery industry.