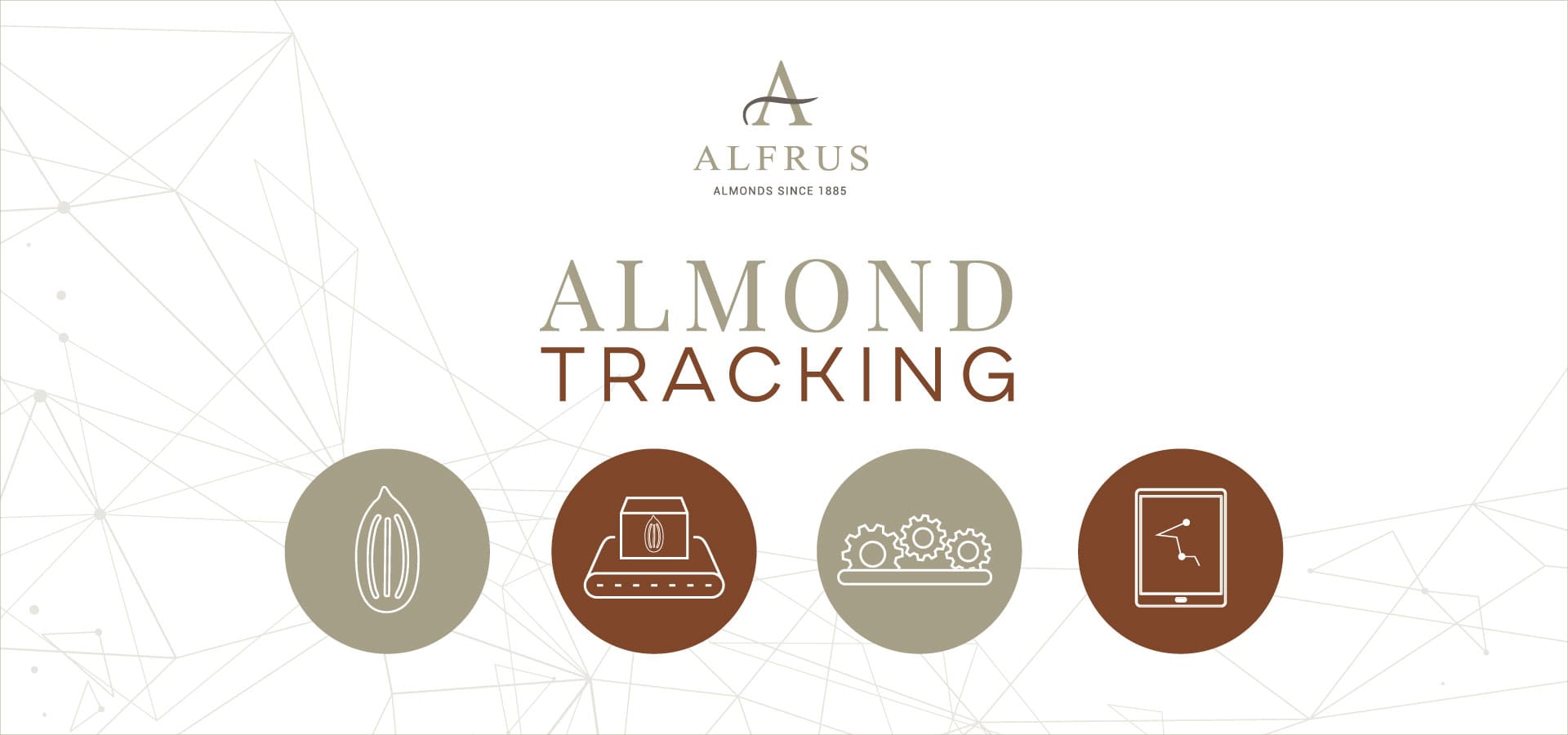 High quality almonds tracked with mes 4.0
Alfrus high quality almond identity card is issued by MES 4.0. Origin, processing stages and manufacturing controls carried out by our team. For us, everything must be clear, transparent, immediate. In one word: tracking.
Almond tracking is a guarantee for our customers and for the final consumers, because at any time we can track the processes carried out in our factory, keeping under control each kg of almonds. And once again, we are able to achieve these results thanks to our cutting-edge technology.
In fact, we have equipped ourselves with an integrated management program: the MES 4.0 (, Manufacturing Execution System).
HOW DO WE TRACK ALMONDS?
On one hand, we carry out internal tracking systems to monitor the raw materials and products that reach our plants. On the other hand, we control almonds origin and follow every shipping routes once we sell them to our costumers.
As a leading company in the world market, we intend to focus on both internal and external almonds tracking systems, as the MES is already working in our factories.
In detail, it is a computer system that connects our management software with production systems.
This program allows us to know immediately, precisely and on time, for each kilogram of almonds:
– The origin of raw materials
– The processing cycle performed and the machinery used
– Production waste with relative productivity
– Final product destination
– Product target market
Each almonds batch we process, therefore, has its own personal "Identity Card" and we are able to summarize its origin and trade route with just a click on our machinery, that attests almonds undergone processing stages and were shipped abroad. Thus, we can track almonds once they are sold too. that is also a further guarantee in terms of food safety. Everything is controlled, safe and tracked.
And that's not all! The advantages of a system that links our management structure to the production one, allow us to save time and increment our productivity. The MES system is successful because it is able to connect each corporate sector in a complete and intelligent way, from the decision-making process to the production one.
EXTERNAL TRACKING NETWORK FOR OUR HIGH QUALITY ALMONDS
We intend to further increase the levels of external almond tracking, in order to get real-time updates about our shippings, relating to trade routes and almonds origin. Our goal is to be more accurate in all our operative and processing stages.
High-quality almonds will thus be able to count on a network of detailed and always up-to-date information.
We are working on an international interconnection project to share precise data and information, available to everyone at any time and at any latitude. In this way, the entire almonds route will be tracked up to the arrival in our factories.
In this way, the entire almonds route will be tracked up to the arrival in our factories. We are able to have further 1guarantee environmental sustainability of almond crops1, in terms of safeguarding biodiversity, as well as avoiding any excess of energy and water consumption. Because our company has always been at the forefront to guarantee high quality, sustainable and safe production standards.