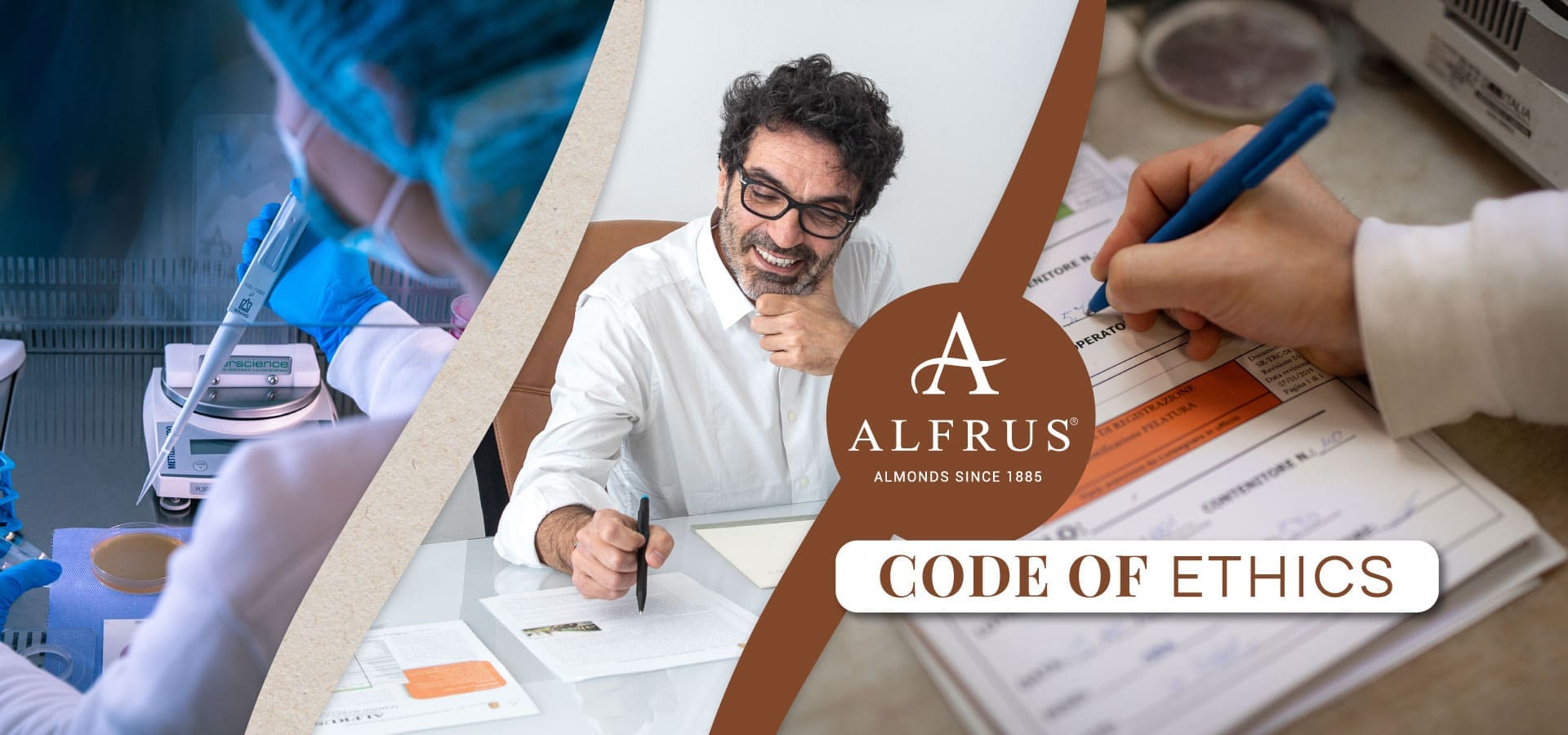 Alfrus Code of Ethics, a compass for building reputation and trust
The reputation of a company is built first of all with values that arise from concrete actions. With clear and straightforward guidelines that we really apply to our business. To do this, we have adopted a company Code of Ethics that is valid for our internal relationships among employees, CEOs and managers, but also to our partners, suppliers, consultants and shareholders.
For a company like Alfrus that buys, processes and sells almonds in the global market, the Code of Ethics also represents an extraordinary lever for growth.
In this way, in fact, we build our first strength. We build our reputation. A value that makes our company bigger, setting our business at the forefront of international commercial relations.
In our Code of Ethics, published on 19 April 2021, we stated that people and relationships among each other come first. Our busoness priorities are:
• Legality
• Integrity
• Transparency
• Confidentiality
• Respect and Appreciation of human work
• Correctness
Compliance with national and international norms1 is a cornerstone of any business, as well as 2honesty and fairness in achieving the company's goals.
These rules must be followed by 3clear3 and 4confidential management of information and data4, to guarantee the protection of company practices towards competitors but also, and above all, to protect the privacy of all our stakeholders.
Furthermore, we are committed to respecting individual dignity relating to gender, age, ethnicity, religion, political, and trade union membership. The psycho-physical, moral and cultural integrity of any individual always comes first. We are therefore committed to making the working environment a safe place, where relationships between colleagues are based on loyalty, correctness, collaboration, mutual respect, and trust.
Ethics and morals are the pillar on which all business activity must be set.
THE CODE HELPS US TO PREVENT CRIMINALITY
The Code is for us a guideline, a reference basis but also a valuable tool to prevent ciminal issues of any kind. The clear and transparent rules and behaviors to be followed in specific situations show us the way. It is therefore a compass and, in this way we at Alfrus have made ourselves guarantors of the legality of everyone who work with us. While not binding, this document defines the social responsibilities of managers, workers and even suppliers and stakeholders, supporting good practices.
Furthermore, we have a tool that repairs any contractual flaws and prevents the occurrence of abuses. We paid particular attention to anti-corruption and money laundering / self-laundering issues too. In this way, all the stakeholders immediately know which is our business compass of values and ethics. Because trust and legality come before business for us.
WE BUILDTRUSTING, CLEAR AND LASTING BUSINESS RELATIONSHIPS
A company like ours that has a Code of Ethics has the priviledge to be aknowledged as important and valuable. We demonstrate our commitment to multiple sectors and strategic themes with strong and lasting relationships of trust. In this way the Code attests our quality and helps us to grow in perceived value and competitiveness. Even so, we build relationships and look forward safe and sound.