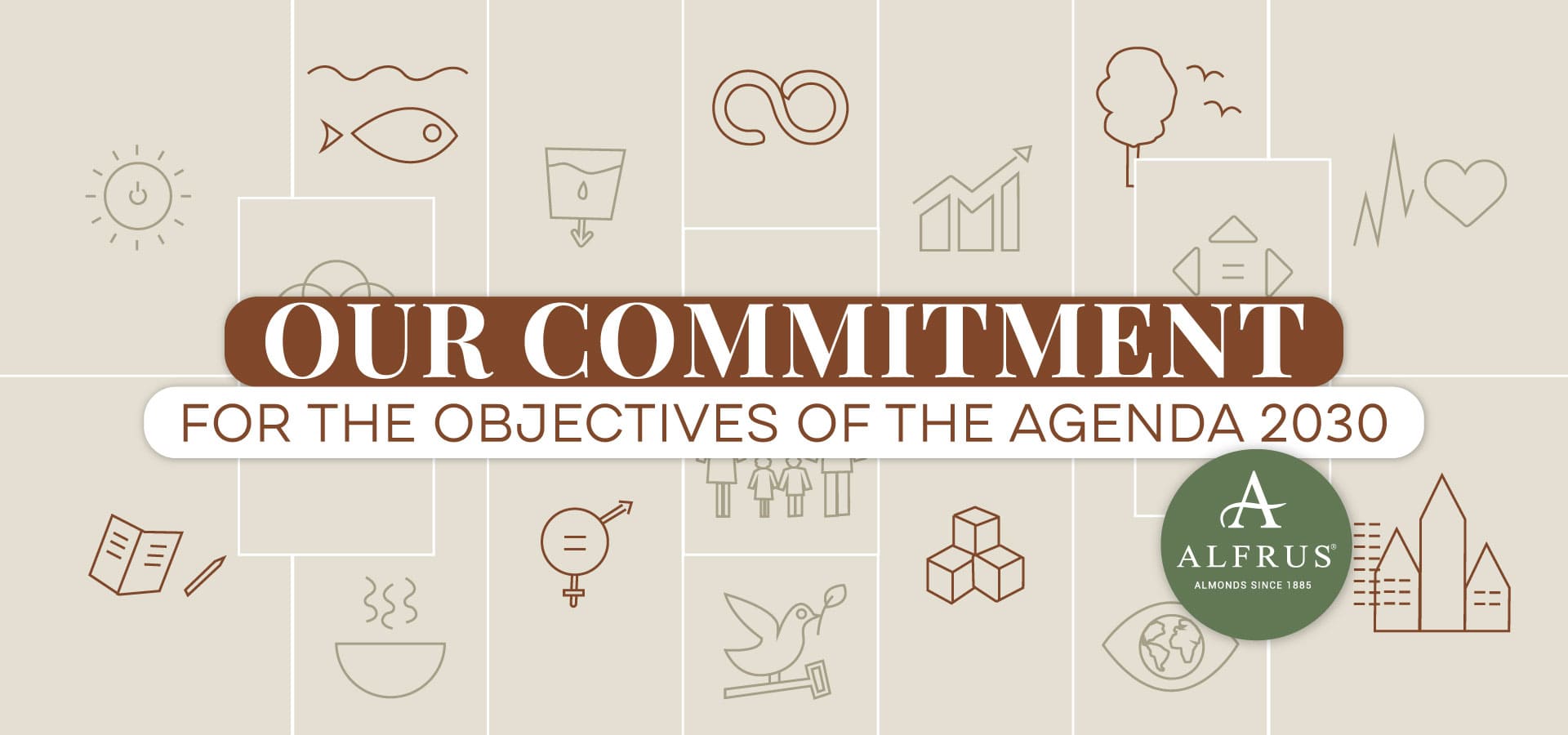 Agenda, Alfrus responds to UN appeal
United Nations has asked the 193 member countries and all people and social and economic operators to make a concrete commitment to save the planet. It has done so through the 2030 Agenda for Sustainable Development and we at Alfrus have decided to take up the task following to the UN's appeal.
Our common goal is to halt climate change, safeguard the planet and its small and large inhabitants, alongside reducing poverty and inequality.
As an almond processing company, we operate as protagonists in a globalised and therefore interconnected world. For this reason, our commitment is decisive and drives us not only to act but also to encourage a collective commitment. Moreover, we ask those who interact with us – suppliers, partners and customers – to make the same effort towards environmental sustainability.
The guidelines were set out in 2015 by the UN in the 2030 Agenda. These goals are ambitious, complex but, in our view, possible.
There are 17 life-changing goals:
1. No poverty
2. Zero hunger
3. Good health and well-being
4. Quality education
5. Gender equality
6. Clean water and sanitation
7. Affordable and clean energy
8. Decent work and economic growth
9. Industries, innovation and infrastructure
10. Reduced inequalities
11. Sustainable cities and communities
12. Responsible consumption and production
13. Climate action
14. Life below water
15. Life on land
16. Peace, justice and strong institutions
17. Partnership for the goals
At Alfrus we have been working for a long time to act on many of these strategic points. We are doing this by defining a line of action, indicating methods of behaviour and guidelines that commit those who work with us. Moreover, we do it by using "Research and Development" strategies. To grow responsibly.
We explain in detail how.
GENDER EQUALITY
Goal number 5 of the Agenda is to "ensure women's full and effective participation and equal opportunities for leadership at all levels of decision-making". We at Alfrus have adopted a Code of Ethics that identifies respect for individual dignity and gender differences as one of the fundamental principles to which everyone is bound.
It is important for us protect the individual's welfare and growth, and to protect our employees from all forms of discrimination. Safeguarding women on maternity leave and returning to work in the same function as before is as easy as it is real.
CLEAN WATER AND SANITATION
Goal number 6 directly concerns us. We use a lot of water in our almond processing, but we have achieved very good results in terms of optimising consumption and cleaning up wastewater. Thanks to a new high-tech plant, we are able to purify and filter water, which can then be reused in agriculture.
Moreover, by 2030 we will be doing even better thanks to a project we are developing with university research centres. We will have even more efficient plants in terms of water efficiency and wastewater treatment, thus reducing waste and pollution.
In addition, we select our suppliers by relying on environmentally friendly farmers who practice integrated farming techniques. In this way, we discourage the indiscriminate use of chemical fertilisers and pesticides. We do this in order to limit the environmental impact of our crops, to protect biodiversity with its valuable pollinators, and at the same time the health of consumers to whom we offer a safe product.
AFFORDABLE AND CLEAN ENERGY
Our energy-saving systems implement goal number 7, which aims to increase the share of renewable energy in the global energy mix by double by 2030. Our factories are geared towards Smart Factory 4.0 through energy-efficient technologies and machinery. Furthermore, in the future, thanks to our technology and equipment, we will be able to further optimise energy consumption by focusing on renewable energies, from cogeneration to photovoltaic panels.
DECENT WORK AND ECONOMIC GROWTH
We grant every employee or associate equal dignity at work and select our partners worldwide according to the same ethical principles. This means that we meet Measure 8 of Agenda 2030 precisely.
For us, it is fundamental that Alfrus almonds are the fruit of decent work and we are committed to adopting these same principles everywhere in the world, in particular in all those developing countries with which we have commercial relations. This is why we only rely on certified suppliers who give us real and documented guarantees on an ethical front too.
RESPONSIBLE AND SUSTAINABLE PRODUCTION
Our interest is to offer the food and baking industries an increasingly healthy almond. To do this, in line with goal number 11, we encourage our almond suppliers to adopt nature-friendly, environmentally sustainable and therefore low-impact cultivation methods. We also select our suppliers according to their focus on integrated agriculture and carry out regular on-site audits to check cultivation techniques. In this way, we protect the ecosystem, the goodness of our product and the health of our consumers, in a market that is rightly becoming increasingly sensitive to these issues.
TACKLING CLIMATE CHANGE WITH LESS POLLUTANT EMISSIONS
Every day our planet gives us a wonderful product, the almond, which is the basis and substance of our business. Protecting its delicate balance is therefore our duty, as indicated by UN goal number 13. We are defining an ambitious project that will allow us to monitor and reduce the CO2 emissions of our plants by 2030.
PROTECTING LIFE BELOW WATER AND ON LAND
Reducing pollution by reducing the impact of production is a daily commitment for us through initiatives already active in our plants (goal number 14 and 15):
– Low energy and water consumption plants
– Machinery for purifying wastewater for re-use in agriculture
– Correct management of separate waste collection and regular disposal of processing waste
ALWAYS STANDING BY THE RULES
Our Code of Ethics is a reference point for all those who experience the reality of Alfrus and it fully embodies measure no. 16 of the 2030 Agenda. The principles of legality, integrity and transparency are the basis of our actions both individually and as representatives of the company.
For this reason, we demand maximum transparency in business transactions and in all external relations, in full compliance with national and international regulations on the fight against crime and illegal financial activities. In concrete terms, Alfrus is committed to reporting any suspicious transaction. Because every day we can do the right thing, in the right way.
The year 2030 is not far away and therefore an extra effort is required from everyone to reach the goals of the UN Agenda for Sustainable Development. We at Alfrus have decided to take the side of nature and commit ourselves daily through concrete actions. In this way, we grow as a company and we grow as a community of people.